This is a peaceful shallow-water bay where you can charter long-tail boats out to neighbouring islands. Prices are usually fixed but it doesn't hurt to bargain with a smile.
Thong Krut, like a lot of Samui, is in a state of flux, with many buildings going up and just as many being demolished to make way for newer ones. Here, you have the choice to eat at several large seafood restaurants, all with sea views and all with the freshest catch.
Interested in this tour? Book it here.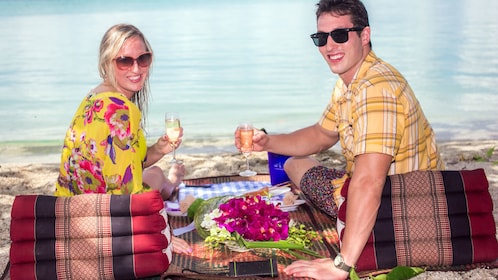 per traveler
Free cancellation
Book
To hire a long-tail boat simply chat with the owner and find an agreeable price for you both. Boat drivers will recommend trips out to Koh Mudsum, Koh Taen and several other destinations for snorkelling, swimming and beachside relaxation.
If you're feeling peckish then stroll into the large, fan-cooled Beach Restaurant - it has all-day dining and specialises in fresh seafood.
The beach itself at Thong Krut is charming at high tide, not so much at low tide. Great for strolling and exploring, the views from here take in neighbouring islands and you'll soon be asking locals about how to get to them.
Recommended Hotel near Thong Krut
Easy Time Resort
Easy Time Resort centrally situated at Laem Sor Beach, Samui Island, Suratthani Province.Its location is surrounded by lines of mountains and faces the breathtaking view of Koh Samui beach.As a result, Easy Time offers a private and relaxing atmosphere to its guests and at the same time provides the guest with an appreciation with the endless beauty of the nature on Samui Island.Additionally, Easy Time , Koh Samui helps promote the tourism of Thailand, which has been rapidly expanding and dramatically increasing by visits from domestic and international tourists. Read More...
Rate This Place:
( votes)