Our editor's choice of Samui's best Thai restaurants will give you the chance to discover all the subtleties of one of the most revered cuisines in Southeast Asia. Thai cuisine in Koh Samui benefits from all the influences that the country offers, with dishes from the four main areas of Thailand, themselves influenced by neighbouring countries.
Being an island, Koh Samui also gives its visitors the opportunity to feast on the delicious seafood and fish freshly caught in its surrounding waters. Our list of the best Thai restaurants in Samui is as eclectic as can be regarding prices and flavours. Each of these recommended venues serves excellent Thai specialties from the world-famous tom yum goong (spicy shrimp soup) to pad thai (fried-noodles) to the lesser known kua kling (dry curry from southern Thailand), and more. Bon appétit!
Interested in this tour? Book it here.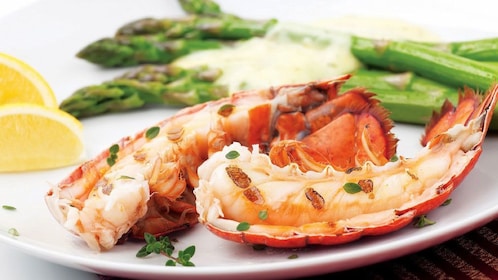 per traveler
Free cancellation
Book
1
Saffron
Lamai – Banyan Tree Samui
Located in the northern area of Lamai, on the grounds of the majestic Banyan Tree Samui, Saffron is really an outstanding restaurant. Set at the top of a hill, overlooking the Andaman Sea and the northeastern coast of Samui Island, Saffron is decidedly a class-act. With a refined atmosphere and décor, impeccable and discreet service and, above all, delicious Thai food, Saffron is the kind of venue perfectly dedicated for a memorable treat of the senses in Koh Samui. The fact that many guests residing in other resorts come – sometimes more than once during their stay – to indulge themselves at Saffron tells a lot about the qualities of this restaurant.
Opening Hours: 18:00 – 23:00
Location: at Banyan Tree Samui
Tel: +66 (0)77 915 333
Opened in 2012 and under French management, Kob Thai is one of the most popular restaurant in Lamai, and for good reasons. Firstly, it is located in a very tranquil environment some 200m from Samui's Ring Road, and is set on a rather large plot featuring eight salas and a swimming pool, making the venue very family-friendly. Secondly, Kob Thai specialises in traditional Thai dishes prepared by a talented team. Thirdly, the restaurant is unpretentious and fairly priced. Read More...
Opening Hours: 10:00 – 23:00 daily
Tel: +66 (0)82 534 9325
3
Khaw Glong Thai Restaurant
Chaweng
Khaw Glong Thai Restaurant is one of the most popular venues for sampling genuine Thai cuisine in Chaweng. At this extremely popular restaurant, diners can feast on freshly-cooked traditional dishes, prepared with fresh ingredients and 100% MSG-free. Designed in contemporary Thai style and featuring a pleasant and friendly atmosphere, Khaw Glong is located in a small alley off Chaweng Beach Road, behind the Kasikorn Bank next to Iyara Beach Hotel & Plaza.
Opening Hours: 17:00 – 22:00 closed on Sundays
Location: in a small alley off Chaweng Beach Road, behind the Kasikorn Bank next to Iyara Beach Hotel & Plaza
Tel: +66 (0)92 447 4837
4
Tree Tops
Chaweng - Anantara Lawana Resort & Spa
Tree Tops is Anantara Lawana Resort's signature award-winning restaurant. In addition to serving first-class dishes, this restaurant lets its guests dine in a unique environment: eight private open-sided tree-houses perched in the canopy. Each of them can seat up to eight dinners, making reservations mandatory. The feeling of dining in such an original place is already intense, and the quality of the Thai food served at Tree Tops will take your taste buds to a new high. Thai cuisine is here revisited by the chef, who has a long experience in blending flavours from all around the world. Read More...
Opening Hours: 18:00 – kitchen closes at 23:00
5
Phensiri Thai Bistro
South Chaweng
Phensiri Thai Bistro is a trendy yet unpretentious family-run business serving a great choice of Thai cuisine classics such as pad thai gai (fried noodles with chicken), tom yum (spicy soup), massaman beef curry, and more. Located in the southern part of Chaweng, a very short distance from The New Villa, Phensiri Thai Bistro is a modestly-sized contemporary-style restaurant, featuring indoor and outdoor (under a pergola) dining sections. Reasonably priced, Phensiri also hosts Thai cooking classes.
Opening Hours: Daily from 11:50 - 22:30
Tel: +66 (0)77 952 412
6
Nuch's Green Talay Restaurant
Thong Krut
Opened in 2004 and named after the chef and manager Nuch, this authentic Thai restaurant serves central Thailand dishes in the charming fisherman's village of Thong Krut, in the southern area of Samui Island. The area is remote and undeveloped, yet deserves to be visited if you would like to see the real Samui, the way it used to be before the advent of mass tourism. It is decorated in a simple and elegant Thai style, featuring white walls and dark wooden furnishing and beams and marble flooring. Regarding food, Chef Nut and Chef-Assistant Nin are as original as they are friendly. Their signature dish is green curry, and they do their best to prepare dishes otherwise difficult to find in Samui.
Opening Hours: Daily from 15:00 - 22:00
Tel: +66 (0)87 887 9956
Farmer Restaurant blends modernism and tradition in style. This unique venue, located off Samui's Ring Road in Mae Nam, features contemporary architecture and furnishing set in the middle of rice-paddies. The views to the mountainous centre area of Samui Island, and the atmosphere of the venue, are undoubtedly soothing. A large part of the ingredients used to preparing the dishes served at Farmer Restaurant are grown on site, including five varieties of rice. Healthy and traditional, the cuisine served at Farmer Restaurant mainly comes from northern and southern Thailand. Read More...
Opening Hours: 12:00 – 22:30
Located toward the eastern end of Bophut's Fisherman's Village, directly opposite The Waterfront Hotel, The Hut Café is a simple and unflashy family business serving delicious home-made Thai specialities at affordable prices. From massaman and other curries to fresh seafood to classic Thai dishes, The Hut Café serves hearty, well-prepared food in a very Thai – in the sense of being laid-back – atmosphere. The restaurant is, in fact, the owners' family house, to which a dozen tables have been added to seat customers inside or in front, for the al fresco experience.
9
The Island View Restaurant
Taling Ngam
The Island View Restaurant is a beachfront venue located in Taling Ngam, on the west coast of Samui Island, a stroll away from Olanda Samui Resort. This great sundowner spot is the perfect place to spend a relaxing dinner on the beach while sampling delicious local specialities. Featuring covered and outdoor areas, The Island View has been pretty well thought-out to render Thainess in style. Mostly made of bamboo-and-thatch, and surrounded by coconut trees, this simple, neat and clean restaurant has all the assets of a postcard cliché, promoting the warmth and coolness of the tropics. Concerning food, the restaurant specialises in fresh fish and seafood dishes. They also have a list of cocktails served at only 100 baht during the daily happy hour from 17:00 – 18:30
Opening Hours: Daily from 11:00 - 21:00
Tel: +66 (0)93 575 8209
10
Sweet Sisters Café
Baan Bang Kao
Sweet Sisters Café is located along Samui's Ring Road, between Laem Sor and Laem Set in the southern part of Koh Samui. This 'off-the-beaten-tracks' location should not curb your enthusiasm to stop by and sample their excellent organic food. The venue is quite small yet inviting. Simple and comfortable, it also features games for children. Everything served - or sold on the shelves - here is natural and organic: there is no use of MSG or other chemical enhancing agents at Sweet Sisters Café. Their Thai dishes have a fusion twist and a great flavour, enhanced by the freshness and quality of the ingredients used to prepare it.
Opening Hours: Daily from 11:00 - 21:00
Tel: +66 (0)86 470 88631
Rate This Place:
( votes)