Here are the 10 most romantic restaurants in Samui. No honeymoon or vacation with your loved one in Samui would be totally successful without at least one outstanding romantic dinner, when the pleasure of being in good company blends with the savours of the delicacies on your plate. Lucky for you, Koh Samui houses an impressive number of romantic dining options, from private beach restaurants under a sala to exclusive dining in a wooden hut perched in the trees to dining on a terrace overlooking the Gulf of Thailand, and more.
Sampling all the romantic restaurants available on the island has been a long and arduous experience, but we finally agreed on the following list of the best venues to dine on a honeymoon in Koh Samui. You can be assured that all these restaurants will exceed your expectations for an unforgettable romantic dinner with your sweetheart in Samui.
Interested in this tour? Book it here.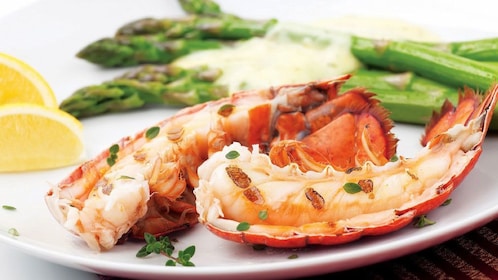 per traveler
Free cancellation
Book
Settled on Bophut beachfront and belonging to Zazen Boutique Resort and Spa, Zazen Restaurant is a long-established venue highly praised for both its romantic atmosphere and for its delicious cuisine featuring Thai specialities and French-influenced delicacies. Zazen Restaurant is one of the favourite venues for couples who would like to experience an exclusive dining experience with the sumptuous 'Beach Sala Romantic Dinner', available on request. Read More...
Opening Hours: 18:00 – 23:00
Location: at Zazen Boutique Resort and Spa, toward the western end of Bophut Beach
Tel: +66 (0)77 430 345
Dining on the Rocks is the flagship of the opulent Six Senses Samui resort located on Samrong Bay, at the northernmost tip of Samui Island. Literally settled 'on the rocks', this stylish venue features two dining areas – indoor and outdoor – both of them offering stunning views out over Koh Phangan and the Gulf of Thailand. With skilfully prepared fusion cuisine, soft live music, and the stars above your heads, the experience of a romantic dinner at Dining on the Rocks is unique. Read More...
Opening Hours: 18:00 – when the last guest leaves
Location: In Six Senses Samui resort, Samrong Bay
Tel: +66 (0)77 245 678
Ocean 11 is a small, sophisticated restaurant located on Bangrak beachfront. Established in a 60-year-old villa, it can only host 25 guests, making it a rather exclusive dining venue (reservation highly recommended in peak season). Founded by German Chef Bernd Schillig in 2007, it provides its guests with a pleasant romantic atmosphere while dining on delicate dishes influenced by flavours from all around the world, thanks to Chef Bernd's long culinary experience in five-star resorts in England, Thailand, Singapore and Indonesia. For the ultimate romantic dining experience, ask for one of the two tables closest to the beach when making a reservation. Read More...
Opening Hours: 14:00 – 22:00
Location: 23 Moo 4, Route 4171, Bangrak, Bophut
Tel: +66 (0)7 724 5134, +66 (0)89 123 2364
Romantic in a highly original way, Tree Tops Sky Dining offers you a unique eating out experience. The rooms of this stylish restaurants are set in classy wooden huts perched on tall trees and accessible through staircases and catwalks. The atmosphere of this splendid restaurant, located in the grounds of the Anantara Lawana Resort in Chaweng, is indeed exceptional. Tree Tops Sky Dining's menu boasts the same incomparable opulence of the venue as it features an excellent choice of international favourites prepared with the finest ingredients. Read More...
Opening Hours: 18:00 – kitchen closes at 23:00
Location: In Anantara Lawana Resort, north Chaweng
Tel: +66 (0)77 960 333
5
Orgasmic Beach Restaurant
Bophut Beach
Beach dining under the stars has always been at the top of the list for those looking for a greatly romantic eating out experience. Orgasmic Beach Restaurant is the perfect place to enjoy such an event. Located at the eastern end of Bophut Beach, Orgasmic is an unpretentious yet stylish venue offering seaside dining in a very pleasant and peaceful ambience. The food served at Orgasmic Beach Restaurant is labelled as East meets West cuisine, and it really offers an enjoyable fusion of flavours.
Opening Hours: 15:00 – 23:00
Location: 147/24 Moo 1, Route 4171, Bophut
Tel: +66 (0)98 724 1703
This unique venue has, in the matter of a few years, become one of the most praised restaurants in the whole of Samui Island. Featuring an outstanding Arabian Nights-style décor made of satin cushions, silk curtained booths, and brightly varnished red furniture, The Boudoir is the perfect place for an out-of-the-ordinary dinner with your sweetheart. Food-wise, The Boudoir also stands out from the lot, providing its guests with delicately concocted French dishes. Read More...
Opening Hours: 09:00 – 22:30. Closed Sunday
Location: Ring Road near Maenam Post Office
Tel: +66 (0)85 783 1031
Located on Thongson Bay in the northern area of Koh Samui, The View Restaurant is part of Melati Beach Resort & Spa. Featuring a décor blending modern and traditional materials and touches, The View combines all that is required for an extremely pleasant dining experience under the tropics. The settings of this beachfront restaurant offering a view to Koh Phangan - lying a dozen kilometres off Samui's coast - are simply outstanding, and The View features a great romantic beach dining option available on request. Is there something more romantic than to dine by candlelight on the seaside with your darling, feasting on exquisite Thai or Mediterranean dishes? Read More...
Opening Hours: 06:00 – 22:30
Location: At Melati Beach Resort & Spa in Thongson Bay
Tel: +66 (0)77 913 400-420
H Bistro is Hansar Resort's signature dining experience. Located on the beachfront at the western end of Bophut's Fisherman's Village, this French and Mediterranean cuisine restaurant is indeed a stylish venue that takes cuisine very seriously by preparing its dishes with the finest and freshest locally or internationally produced ingredients. Their "dining under the stars" option (available on request) could not be more romantic. It features a flame-lit table for two set on the beach under a pavilion, complete with barefoot butler service and, of course, a special set dinner prepared by Chef Stephen Jean Dion. Read More...
Opening Hours: Breakfast, 06:30 – 10:30; Lunch, 11:30 – 15:00; Dinner, 18:30 – 22:30 (last order)
Location: At Hansar Resort in Bophut
Tel: +66 (0)77 245 511
9
Sun Moon Star
Lamai Beach
Settled on the compound of Silavadee Pool Spa Resort at the eastern end of Lamai Beach, Sun Moon Star is a top-notch restaurant hosting three distinctive areas: an air-conditioned dining room, an expansive rooftop lounge/bar, and a large outdoor wooden terrace standing on huge granite boulders and overlooking the sea. The choice of dishes available will please Thai and western cuisine lovers alike, as the quality of the fare is second to none. The settings and atmosphere of Sun Moon Star are definitely those of a romantic venue.
Opening Hours: 06:00 – 22:30
Location: At Silavadee Pool Spa Resort in Lamai
Tel: +66 (0)77 960 555
10
The Dining Room
Lamai Beach
The Dining Room is the signature restaurant at Rocky's Boutique Resort in Lamai. Located directly on the beachfront, the restaurant features both indoor and outdoor dining areas. Private seaside dining in salas can also be arranged. Nicely decorated in Thai style with flowers and cushions and lit with candles, The Dining Room gives romance its ultimate settings. Chef Mon is specialised in traditional French cuisine, to which he adds his own personal touch. His modern approach to cooking permits guests to sample unique dishes in a very pleasant ambience.
Opening Hours: 06:00 – 22:30
Location: Rocky's Boutique Resort in Lamai
Tel: +66 (0)77 233 020
Rate This Place:
( votes)