Most of the dishes presented in our best Thai food everyone should try in Koh Samui are available throughout the country; only a few of them are considered specialities of Southern Thailand and Samui Island. You could sample all this delicious fare while on holiday in Koh Samui, and even learn how to prepare them in one of the many Thai cooking schools on offer on this famous island in the Gulf of Thailand.
Thai food is considered one of the healthiest cuisines in the world. For centuries, Thai chefs have been in search of the perfect balance between the 5 main tastes - sourness, sweetness, saltiness, bitterness, and spiciness – in the dishes they prepare and over the course of the whole meal that they serve.
Interested in this tour? Book it here.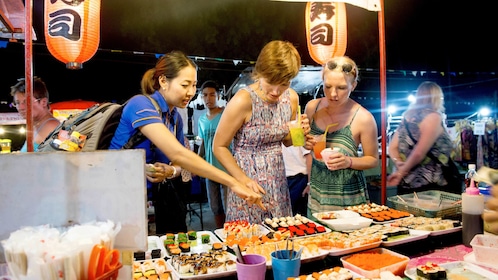 per traveler
Free cancellation
Book
Being an island, it is obvious that seafood is one of Koh Samui's most beloved dishes. The presence of a large protected area – Angthong Marine National Park – a few km northwest of Samui's coasts makes the waters surrounding the island pretty rich in marine life.
In Koh Samui, you can feast on fish, shellfish, crab, lobster, squid, prawn, and seaweed freshly caught on a daily basis. Prepared Thai-style, with tamarind, lemon, ginger or basil coconut sauces, Koh Samui seafood is second-to-none in popularity.
Kalamae is a sweet, sticky candy made of glutinous rice flour, palm sugar, and coconut cream. This delicious Thai dessert is a speciality of southern Thailand, more specifically from Koh Samui due to the many coconut tree plantations that were one of the island's most important economic resources.
Kalamae is the Thai equivalent of French caramel. The most notable place to find it is at Hin Taa & Hin Yai daily market. It's also available at many fresh markets around Koh Samui.
Tom yum (also spelt tom yam) is one of the most popular dishes in Thailand. The original recipe of this clear, spicy and sour soup comes from northeastern Thailand and Laos. Its ever-growing popularity in Thailand and Southeast Asia has seen the original recipe slightly modified, depending on the region it is prepared in.
The favoured tom yum in Koh Samui is obviously prepared with seafood and shrimps added to required fresh ingredients such as lemongrass, galangal, lime juice, fish sauce, kaffir lime leaves, and crushed chilli peppers. When ordering tom yum in a restaurant, be aware that the Thai version of this soup is very spicy, so it is best to ask for a mildly-spiced version.
Khao phad means 'fried rice' in Thai. It's almost considered a farang ('foreigner' in Thai) dish due to the lack of spice. The local answer to fast food, khao phad is a flexible dish as you can prepare it with a great choice of ingredients, including chicken, pork, prawn, and crab. You can even add tofu if you're vegan or vegetarian.
Originally from central Thailand, the basic ingredients are jasmine rice, egg, garlic, oyster sauce, soy sauce, salt, and sugar. All the ingredients are stir-fried in a wok, giving it a rather smoky flavour, The dish is served piping hot with accompaniments like cucumber slices, salad, lime, and tomato slices.
Phad thai is one of the most iconic dishes in Thailand. This stir-fried noodle dish was introduced to Siam during the Ayutthaya Kingdom era and is believed to be of Chinese and/or Vietnamese origin. Its basic ingredients are rice noodles, egg, tofu, tamarind pulp, fish sauce, garlic, shallot, red chilli pepper, palm sugar, and soybean.
Similar to khao pad (fried rice), you can change the ingredients to suit your dietary needs. This dish is available in almost every Koh Samui restaurants, street stalls, and night markets.
Kai phad med ma muang – most commonly known as 'chicken cashew nuts' in English – is one of the favourite dishes among visitors to Thailand. It contains dried chilli, red/yellow/green bell peppers, onion, spring onion, and Thai herbs, stir-fried with chicken and cashew nuts.
This is a delicious introduction to Thai cuisine as it's usually reasonably spiced. Served with white rice, kai phad med ma muang blends a great range of flavours that can please everyone.
Originally from Laos, som tam is a cold salad common throughout Southeast Asia. Usually eaten with barbecued chicken and sticky rice, its main ingredients are hot chilli, palm sugar, fish sauce, and sour lime, all pounded with a clay (or granite) mortar and pestle before being added to a finely cut papaya (mango, carrot, or other firm vegetables) salad.
Other ingredients, such as dried shrimps or crab, tomatoes, yard-long beans, raw Thai eggplant, and chopped roasted peanuts, are also added to the recipe. Som tam is a very convivial dish, commonly shared in groups of friends or family.
Satay is a fare of seasoned barbecued meat – chicken, pork, beef, fish, goat or mutton – served on a skewer and served with peanut sauce. This dish originally comes from Java, in Indonesia, but is very common in many Southeast Asian countries.
As street food is very prevalent in Thailand, you can find satay almost everywhere, including roadside stands, restaurants and markets. In Koh Samui, you could sample satay at walking street markets that take place weekly in the main resort towns of Chaweng, Lamai, Bophut and Maenam.
Tom kha kai (chicken galangal soup) is a delicious spicy and sour dish. Like many Lao and Thai traditional cuisines, its main ingredients are coconut milk, galangal, kaffir lime, lemongrass, coriander, straw mushrooms, lime juice, chilli pepper, and chicken.
Coconut milk enhances the flavours of the herbs used in the preparation of this soup. Tom kha kai is one of the favourite dishes for vacationers in Thailand.
Massaman curry is a Muslim dish generally served with beef or chicken, but can sometimes be served with pork. This succulent dish – made with potatoes, carrots, cardamom, cinnamon, star anise, cumin, bay leaves, mace, and nutmeg – is a hearty mildly-spicy stew. It's usually eaten with white rice to complement the rich flavours.
Rate This Place:
( votes)