The best night markets in Samui offer a huge selection of shopping and dining opportunities, with the added advantage that you can shop for longer in the cool evening air than you could during the heat of the day. Plus, you also don't need to sacrifice a potential beach day in order to pick up some great discounts on clothing, electrical goods, souvenirs, and much more besides.
The weekly Walking Streets around the island feature prominently among this list of the best Samui night markets, particularly since their popularity among visiting tourists has seen them grow into size to the point that they now take over entire towns for one night every week! Even with this popularity, prices are still generally very low and can usually be bartered a bit lower if you take a friendly and cheerful approach. Be sure to check out as many of the following markets as you can while you're on Koh Samui in order to enjoy great local eats and unbeatable bargains.
Interested in this tour? Book it here.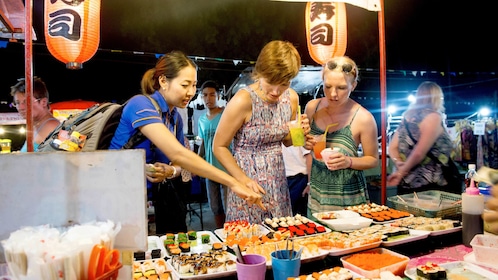 per traveler
Free cancellation
Book
Fisherman's Village Walking Street brings the quiet, sleepy town of Bophut to life every Friday from 5 pm to 11 pm. It sees the narrow Beach Road and adjoining streets crammed with market stalls and shoppers from across Koh Samui, with a diverse range of wares available at very low prices.
Many of the stalls sell much the same items as you will find in markets throughout Thailand, including 100-baht T-shirts, simple jewellery, handbags, sunglasses, beer cosies, souvenirs, beachwear and simple electrical goods. As with all market shopping in Thailand, a certain amount of judgement and measured expectations is necessary when selecting your purchases. Read More...
Opening Hours: Fridays from 5 pm to 11 pm
Location: Bophut Beach Road, Koh Samui, Surat Thani 84320, Thailand
Lamai night market is a fun place to get your shopping in, with plenty of typically souvenirs like T-shirts, carved ornaments, and cheap jewellery. There are also a lot of branded goods of questionable authenticity, which are best avoided.
In the centre of town, diagonally opposite McDonald's and leading to a square surrounded by beer bars, you'll find a night market that has a lot of similarities with Bangkok's Patpong but on a smaller scale.
Opening Hours: Wednesday, Thursday and Sunday from 5 pm to 10 pm (closed on Mondays, Tuesdays, Fridays and Saturdays)
Location: Lamai Centre, 139/24 Koh Samui, Surat Thani 84310, Thailand
Tel: +66 (0)84 695 3502
Chaweng Walking Street is a riot of colours, sounds and scents. This is where you can haggle for items such as T-shirts, sunglasses, jewellery beach dresses, lamps, flip-flops, bags of all shapes and sizes, carved wooden souvenirs, kids clothing and cosmetics.
There's also plenty to eat and drink here. It's hard to imagine shoppers in the West sipping on cocktails while out shopping but at Chaweng Walking Street Market you can do just that, and for very little money, too. Read More...
Opening Hours: Monday–Thursday and Saturdays from 4.30 pm to 12 am (closed on Fridays and Sundays)
Location: 39/36 Chaweng Beach Rd, Bophut, Koh Samui, Surat Thani 84320, Thailand
Tel: +66 (0)77 961 910
4
Elephant Walk Koh Samui
Bophut
Elephant Walk Koh Samui is a small night market in Fisherman's Village. Located just a short walk from the Happy Elephant Restaurant, it's a quirky shopping experience in Bophut and a good place to find some interesting souvenirs.
It's not a particularly long walk as this shopping precinct stretches only about 30 metres back from Bophut Beach Road. Most of that space is a gravelled central courtyard with cute elephant statues painted as comic book characters, as well as seating for dining and relaxing and small tables made from empty oil drums painted with national flags.
Location: Bophut Beach Road, Bophut, Koh Samui, Surat Thani 84320, Thailand
Chaweng Night Market, despite its name, is not exactly a full and proper market. While there's a fantastic array of dining options, there is very little else, with only a couple of stalls selling clothes and souvenirs.
Established behind the large and popular fitness centre Star Gym, the market is effectively a large food court, with a choice of local Thai food as well as European and international choices and even a couple of small bars. Read More...
Opening Hours: Daily from 5 pm to 11 pm
Location: 14/102 Moo 2, Chaweng Beach Road, Bophut, Koh Samui, Surat Thani 84320, Thailand
Rate This Place:
( votes)